Outside
We firmly believe that children should have the opportunity to play outside every day and so operate free-flow outdoor play for the older rooms, as well as an outside playtime for every room during both the morning and afternoon session come rain or shine.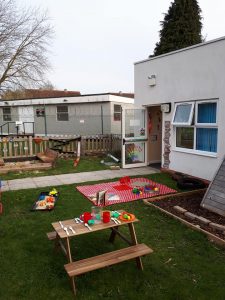 We are very lucky to have a large grassed area with trees which provides shade in the summer and then plenty of fun in the leaves in Autumn before the leaf blower comes along to tidy them away!
Our smaller playground has been completely re-surfaced with 'soft pour' play surface which is much better for little people if they happen to fall and our larger main play area has undergone a complete transformation with new surfacing, a crawling tunnel, a story corner and the crowning glory, a large scale pirate ship.
In addition to enjoying playtime outside we also take the children on walks around the village visiting Maisie the local donkey, collecting conkers, counting how many dogs we can spot, checking out the Christmas lights, looking at the road signs and talking about what each one is telling us…. the activities are endless!
(Content updated 14/06/2021)